Rudder U Doing?
This post has been sitting in the wings awhile, waiting for pictures. Finally dug in and pulled these out.
Before getting into the rudder build, here's a few images showing the completion of the vertical:
But, that's already old hat. Onto the rudder:

We are just about complete with the rudder - the metal parts of it. The Top and bottom compound curved parts will be fiberglass that we will jump on when the elevator is built. The front counter weight bar is also not made yet but we will get that installed shortly. It went together nicely. Even though we have it modeled in detail in CAD, it still took a few iterations of fitting up the parts before riveting it all together. We had to invent the sequence for installation/assembly. For instance, the steel parts had to be drilled for rivets while in the fixture, then removed, de-burred and the holes primed. Re-installed and not riveted until the delrin bushings and hinge brackets were installed and fitted. This meant several iterations of putting it together, working on a part and pulling it all apart again. It was all fun and interesting work and we are very happy with the way it turned-out. We are going to be repeating this build twice more to make the elevator. The elevator design is going to be very similar to the rudder except for the inboard pass-thru and center-line hinge. Will likely jump onto working on the Horizontal stabilizer next and then do the elevators.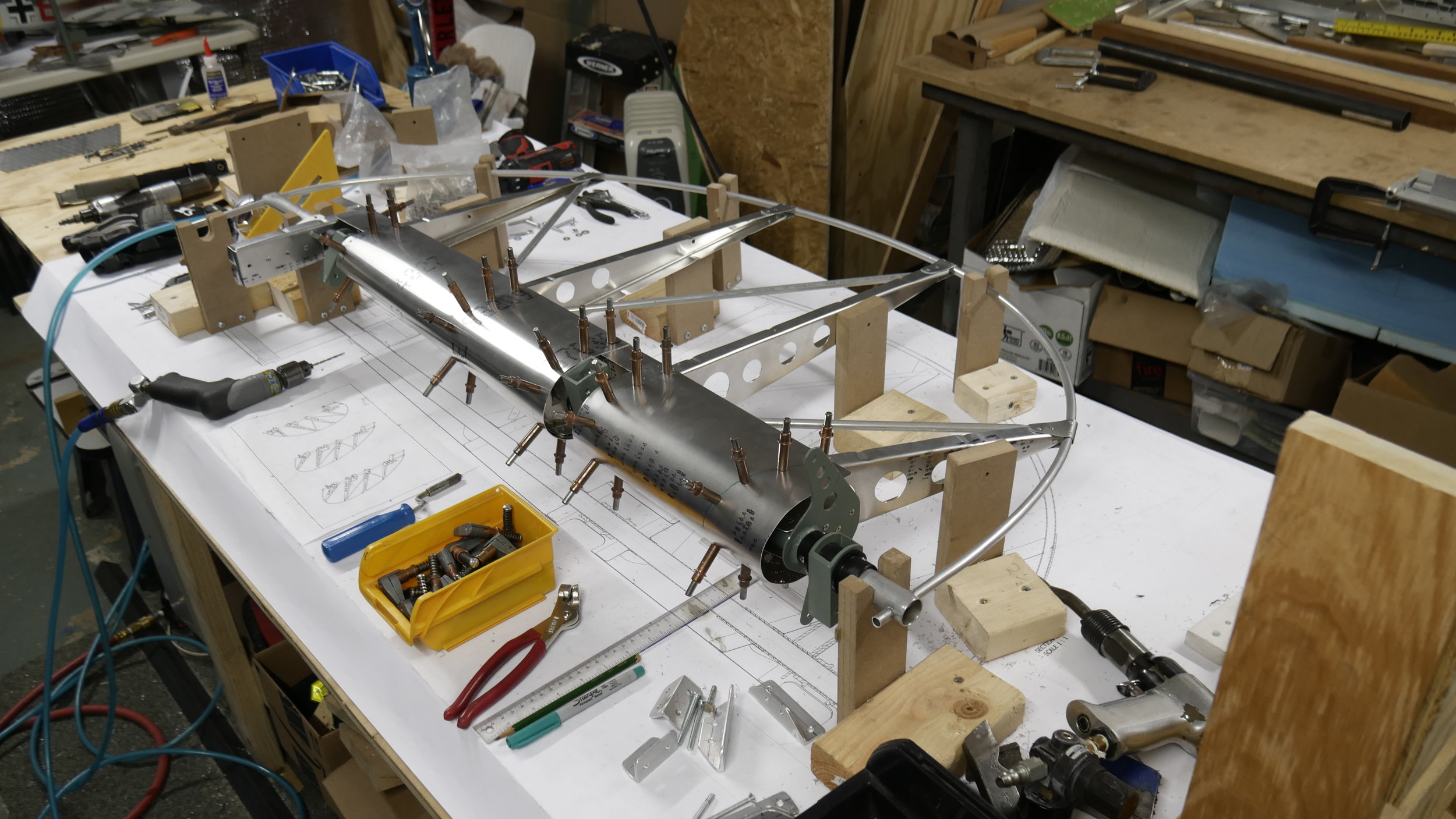 Also, making good progress on the Verner 5Si installation. Scott used the 3D router to actually cut foam in 3D to make the cowling ring. We sanded it up and glassed it. Its coming out great and we are looking forward to firing up the beast! Plumbing is done, except for installing the fuel tank - waiting on that until we finish the electrical connections. I ordered new oil pressure and temp gauges from Verner and they should be here any day now. Their tachometer is 3 inch diameter gauge and does not fit my panel space so I'm keeping with my Tiny Tach digital for now. The throttle quadrant needs to be re-installed and throttle cable cut to length. Then install the prop and fluids. Won't be long now!